http://www.laurengraysings.com/
THE MIKE GRAY BAND featuring LAUREN GRAY
Saturday nights @ Copper Feather in Cherokee Village Arkansas.
LAUREN played a coachella connected event earlier this year2018, I met CYPRESS HILL and hung once again with MIXMASTER MIKE and his incredible wife Dianne. LAUREN is fresh from another gig in LA, recording several songs with a new band. Her daddy MIKE is a favorite in North Arkansas many years now, he was most popular in the early nineties as front man of RAZER, who received critical acclaim from Polygram records but were nudged out by THE KENTUCKY HEADHUNTERS after GARTH BROOKS blew up. MIKE GRAY, 2gether with LEE BUTLER on bass and JOHN BROWN on drums deliver a top quality show of southern rock and roll with or without LAUREN.
I really don't get out that much anymore. I don't know who is hot in Mountain Home, Fayetteville, Batesville, Jonesboro, or4 that matter Memphis or Little Rock. ASHLEY MCBRIDE is from here, she is killing it in Nashville and beyond right now. PHILLIP SWEET of LITTLE BIG TOWN is also from here. MICHAEL TYLER from Thayer is making waves. I think his girlfriend is from here.
I'm considering checking out FIVE FINGER DEATH PUNCH/ GODSMACK. I saw cool bands in California this year, SOUNDGARDEN last year, traveled in recent years2 Saint Louis or New Orleans2 c GUNS N ROSES, or TESLA.
Look for LIVEWYRE at Mixers in West Plains Missouri.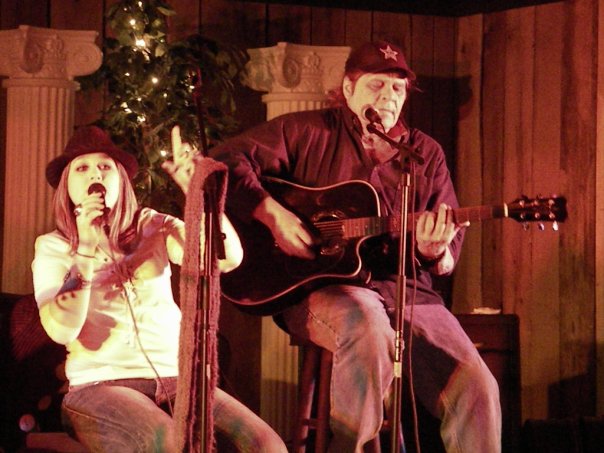 LAUREN AND MIKE also do a show in Horse Shoe Bend Arkansas on Tuesday
nights.
BODAGUS is back.
DYLAN KANE plays @ the Griffin Park Pub alot but he is in Nashville right now.
REVERB SUGAR features JESSE ORR on lead guitar.
My band EROSION is making noise right now with KILE on drums and JAVIER on lead guitar.
Love me some VICKY MCGEE. SONNY CAMPBELL is a stand up bass player. I mean, he plays a regular bass, and he's a stand up guy. Formerly of THROTTLE(GERRY MOSS, CRAIG DUNBAR, KALE RILEY)
STILLWATER HARDY. Blonde drummer ASHLEY is the high point4 me.
BACKFLASH: Solid, professional blues and rock. Dueling guitars, hard working band. http://www.backflashband.com/ Now THE MIKE GRAY BAND. This three piece band is super talented. LEE @ bass knows thousands of songs, and crafts each one beautifully. BAD BRAD @ drums is quite the showman, the good looking youngster of the band. MIKE, recently featured on American Idol, always delivers a memorable evening of rock and roll. And when LALA, LAUREN GRAY is in town, watch out. Of late JOHN BROWN fills in ably on drums. He spent long studio hours making the Maiden Voyage album with MIKE a few years ago,
TONY SPINNER: When not touring the world with TOTO, or Europe as the TONY SPINNER BAND, TONY opens or sits in with MIKE or GERRY. His bassist MARK FENDER jams with us often. His rhythm player SONNY HUNT plays lead for veteran bass player/singer/songwriter/front man GARY GRACE(RIP). TONY plays one weekend a month here in Cherokee Village @ the Copper Feather if he's not on tour in Europe or Japan. TONY says in Japan they say he "prays bruisy." Get it? He plays bluesy.
http://www.myspace.com/jukes333
CHILLYROSE: FESTIVAL ROCKERS. I call them the lynch mob! Look4 them in Little Rock, or @ James Ranch on Eleven Point River April 28 NOw they are BLACK RIVER PEARL. They play @ Midtown Billiards in LIttle Rock and did a Blue Collar Jam 4 or 5 in Hardy I put on a couple of years ago.
FURTHER DOWN; super cool. They bring frats and brats. http://www.furtherdown.us/furtherdownhome.html
BODAGUS; earthy power rock. Diamond State Productions. also known as CLAUDE BROTHERS, or IRISH REDD.
WEAKNESS FOR BLONDES weaknessforblondes.com/ KILLER jAM! Little Rock stalwarts.
MIKE GRAY BAND/ELECTRIC HILLBILLY: The man. My brother-out-law of thirty six years. MIKE jams his originals or ALLMANesqe covers, he plays lead guitar and sings lead. WILSON and JOHN romp with him two, four, or six hour sets. LAUREN(about2 tour the world with the AMERICAN IDOL BAND) is twenty two but sings like a black woman twice her age(picture at Petals and Lace). TOMMY is MIKE's little brother, he's getting' greasy again! Tommy did this medley of whole lotta love(LED ZEPPELIN), Stranglehold(TED NUGENT)and Mary Jane(MIKE GRAY) that goes into Jupiter land. Search for MIKE at Broadjam! Or try http://cdbaby.com/cd/mikegray When MIKE GRAY is in the house---don't bother knockin! Of late he's the ELECTRIC HILLBILLY!
I've been putting 2gether a list of MIKE's bands over the years. THE LOVING KIND. DIXIE TRICKS, TKO, RAGE, HOME GROWN, ESCAPE, BACKFLASH...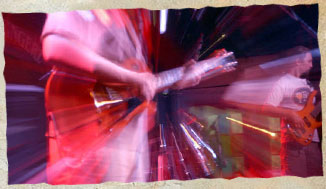 VICKY MCGEE is hot.
LITTLE BIG TOWN. Philip is from here. He used2 b my brother in law actually.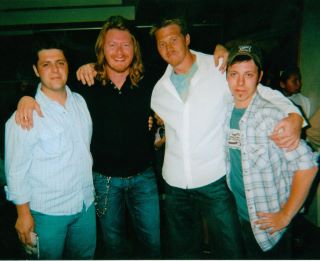 PHILLIP with IRISH REDD
El BUHO: Horn Legend. Plays or played with PHISH, JOE COCKER, STEVIE RAY VAUGHN... http://www.elbuho.com
GERRY MOSS w/ ROADKILL: One of the premier blues guitarists today! Known as the iron man of Beale Street, GERRY carried B.B. KING's house band the FAMOUS UNKNOWNS. Soulful, emotion filled, GERRY shreds blues and rock standards on lead guitar, wailing with a bluesman's howl as lead singer. Drummer KALE RILEY is able and solid as Gerry's longtime sidekick. SONNY CAMPBELL has recently left the band, leaving room for MARK FENDER and others to take over on bass. Heavy with STEVIE RAY VAUGHN and JIMI HENDRIX from early evening until last call, ROAD KILL delivers. With the death of CRAIG DUNBAR, THROTTLE has reformed. SONNY CAMPBELL joins GERRY and KALE for emotional reunions.Gerry Moss
FALLEN WITHIN DIMEBAG SAM is relentless.
LIVEWIRE: JESSE jams quite niftily on STEVIE RAY and CLAPTONesque. JOEL is a veteran drummer at twenty. ILLA is the hot blonde singing lead often.(Now the JESSE ORR BAND).
Speaking of ILLA, she sings for husband DAVID LYNN JONES. He is an immense talent, he wrote several huge country hits in the eighties.
THIRTY2LIFE: ballsy metal. Heavy and Loud/cause that's the way we like it! MICHAEL double times as guitarist for FIREBOX.
VISIONTONGUE; hard as hell prog metal.
BLACKN: DIMEBAG SAM is relentless.
In Little Rock check out WEAKNESS FOR BLONDES, CHILLYROSE, THE MEANIES, the GETTY'S, PUDDINHEAD, WHITE COLLAR CRIMINALS, or Sticky Fingers, White Water Tavern, Vino's, Juanita's, West End, Argenta, Dugans, Kregan's...
THE FAST MOTHERS: from Memphis. http://www.vexarentertainment.com/ Also check out BLAKE MILES.
MOJO DEPOT: Awesome jam band! My kinda crowd(rebel river--hacky statement)
EROSION: I play bass loud and thrashy. I sing. I have six original songs.
CHECK OUT ALPHA BLOOM!
FIREBOX: CHARMAINE and CATT. These home girrrls will rock your asses off! All original! www.soundclick.com/fireboxband MATHEW and SCOTT too! I was in this band. We did a gig @ Copper Feather.
NO QUARTER: Led by veteran singer/songwriter/bassist/front man GARY GRACE(RIP), featuring SONNY HUNT(TONY SPINNER), and a solid supporting cast.
SLAMHOUND: Memphis metal! These guys move me like old school OZZY AND JAKKYL!
FATAL ERRORS metal, nuff said.
REBEL TRAIN: Southern Metal from St. Louis. These guys smash ass.
This EROSION page needed some rap. My main man is Mike Gray. He's been married to my sister for thirty four years. Mike played in a band called RAZER back in the late eighties and early nineties. They received an award for best Southern Rock Band at a Polygram banquet one year. There was talk of a tour, but the KENTUCKY HEADHUNTERS blew up and steered the labels country. MIKE plays a biker festival with them at Riverside camp in October. I hope to open for Mike some day, at a more metal setting(Slick Rock Blue collar Rock 2012?) I'll be talking to Danny out there about it. We'll have the big screen and some hard rocking acts. Nothing like DARK EMBRACE, though I certainly relished them. Hopefully the FAST MOTHERS will be there. Maybe we can swing it toward an EL BUHO evening this time. Or BODAGUS can rock us a set, maybe have two sets per band. Except me. EROSION right now only has a half hour. I'm working on a new song, I'll have an hour before you know it. Besides, I could always pull out the metal pick.
RIP CRAIG DUNBAR. Watch this space for news of his CD REDEMPTION.
live music original music acoustic music music festival Ozarks Hardy Arkansas river blues Beale St. camp music video production dj service southern gray records rebel records Horton music Gerry Moss Mike Gray Tony Spinner, Weakness For Blondes, Chilly Rose, Lauren Gray, Original metal Arkansas original blues metal all originals Blue Collar Rock Blue Collar Jam Spring River Survivor Strawberry fields Strawberry skies guitar duel under the stars, Mike Gray Band, Backflash big screen video, Giant video loud rock louder Free camping Free shuttle