NEW PHONE NUMBER!!
870-751-0328
REBEL TREE CARE NOW INSURED THROUGH
December 2017
HARDY INSURANCE
Rebel Tree Care
28 years this area's premier standard arborist.
Rebel Tree Care-- always insured.
Alan Williams,
Ethical, Informed, Consistent…
ANSI STANDARD IN WRITING
Rebelriver.net
870- 751-0328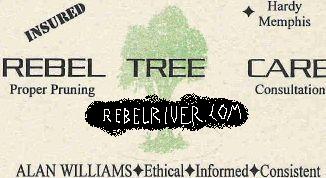 ANSI Standard pruning. Certified methods.
Pinnacle Arborist in Little Rock 501-663-8733
http://www.arboristsite.com/index.php
Did You Know There Are Codes and Standards For Tree Service?
With dismay I have noticed a continuing rash of spike climbing residential and municipal trees for pruning. This discredited method is unprofessional at best. Climbing spikes are to be used for removing trees only. Thousands of communities world wide have outlawed or discouraged this method of climbing, as it needlessly causes irreparable damage. Slick tree services use a bait and switch method to get the jobs, presenting themselves as "masters" or "experts", then performing non standard "hack" work. Is your tree service posing as legitimate, qualified arborists? One way a client can be sure 2 get quality work is insist that compliance with ANSI A300 tree pruning standard be put in writing.
Use the internet. Sites such as Rebelriver.net and ArboristSite.com can help you realize the huge difference in tree service. The standard is very important. So called tree men are moving the Cherokee Village/Hardy area backward with gratuitous malpractice. Only one man has consistently carried the standard of quality in the area (insured continually) since early 1989, and continues to do so today.
Alan Williams
Rebel Tree Care
residential arborist Hardy Arkansas Memphis Tennessee, Hardy Ar Memphis Tn. tree trimmer, tree care, tree pruning, tree removal, brush chipper, independent consultation, root zone improvement...tree service... tree removal... Cherokee Village Arkansas tree service, Hardy Ash Flat Saddle, Williford, Wirth, Evening Shade Mammoth Spring. Tree climber spikeless tree service ANSI standard tree trimmer. monkey's fist Single rope technique, doubled rope technique debris removal residential, storm damage, lightning protection tree pruning, tree trimming, tree removal, quality tree work, the others suck. Beware the bait and switch of the tree posers. Forging their own destiny. And checks.